2018 was a year of celebration in the river community for the 50th anniversary of the Wild & Scenic Rivers Act. Congress passed this bill in 1968 to protect free flowing rivers with outstandingly remarkable values for future generations, and as a member of those "future generations" I am forever grateful. The time I have spent in those protected places has meant more to me than any material holiday gift I've ever received. Hiking through the Kalmiopsis to run the Chetco River and running the difficult whitewater of the Illinois River have helped me grow as a person and make me who I am today. This holiday season please consider passing on the gift of wilderness conservation to this generation and generations to come.
Wild and Scenic Rivers Act
There were 8 river sections included in the original passing of the Wild and Scenic Rivers Act, but it was written with the intent to grow and add more rivers under its protection over time. To be considered for Wild and Scenic designation, a section of river must be free flowing and have at least one "outstandingly remarkable value" (recreational, water quality, fisheries, historical, etc.). As a Wild and Scenic River, it is protected from dams, and then a management plan is written to protect and enhance the values that caused the river to be designated. As of 2018 there are over 200 rivers in 40 different states and Puerto Rico with sections protected under the Wild and Scenic Rivers Act.
Kalmiopsis Wild and Scenic
Although no rivers in the Kalmiopsis were protected under the initial passing of the Wild & Scenic Rivers Act, all three of the wilderness' major rivers have since gained protection through Wild and Scenic designation. The Illinois River was designated in 1984. The North Fork of the Smith River and the Chetco River were both designated in the same bill in 1988.
Conservation in 2018
The Wild & Scenic Rivers Act was great protection in 1968 when it was passed as a response to the dam building frenzy that was sweeping the nation, but in 2018 dams are not as much of a threat. It is more common to hear about old dams being taken down than the talk of new ones. Although the Wild and Scenic Act is better than no protection, it is lacking in that it only protects the designated river on average 1/4 mile out along the river bank, and has no protection for tributaries of the river. It also does not have strong protection against mining claims. There is new legislation currently being introduced to protect against present day threats to these rivers.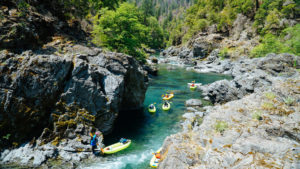 Chetco River Protection Act 2018
The Chetco River Protection Act of 2018 was introduced to the House by Congressman DeFazio of Oregon. This bill is based on recommendations made by the U.S. Forest Service, and has been introduced several times in various forms without making it past committee. This is a short but sweet bill! The most exciting part of this bill is that it gives protection against mining to a section of the Chetco that currently does not have it. It also adjusts the boundaries within the Chetco River's Wild and Scenic Area. Passing this bill will establish much needed permanent protection of the Chetco's crystal water. This bill is still being reviewed in committee and has not yet received the opportunity to be voted on in the House.
Oregon Wildlands Act
Introduced into the Senate by Oregon Senator Ron Wyden in 2017, and cosponsored by Oregon Senator Jeff Merkley, the Oregon Wildlands Act does everything the Chetco River Protection Act does, plus so much more! This Act will add over 250 miles of Oregon Rivers to wild and scenic status. Over 100 miles of those will be to tributaries of the Rogue River, one of the original rivers in the first passing of the bill. The bill will also protect over 200,000 acres of Oregon land by designating it as wilderness area. This is a really exciting bill for Oregon, passing much needed protection to many of its special and vulnerable places. This October the bill was approved and passed out of committee for a vote on the Senate floor.
What You Can do to Help
The most effective and economical way to make a difference is to give a bit of your time and reach out to your senator/representative. Congress loves to hear what their constituents care about! Sending your congressmen/women a handwritten letter or giving their office a phone call goes a long way. Let them know that you care about these places they are fighting for, and thank them for their hard work. The Oregon Wildlands Act is ready for a vote on the senate floor, and the opinion of every single senator counts. Here are links to the directory to find information for your Representative and your Senator, and a great article on tips for writing them a letter.
Another way to be an advocate is to donate to organizations that help represent our wild rivers, and keep our public lands protected. Becoming a member of these organizations not only helps fund their efforts, but also gives them more clout when lobbing by increasing the number of voters they represent.
You can donate to Kalmiopsis Guide Association and help us advocate for the Kalmiopsis Wilderness and its rivers.
Outdoor Alliance is a coalition of many awesome groups that advocate for our public lands. One of their current campaigns is advocating for the Oregon Wildlands Act (among other great causes).
American Whitewater is another great organization to help represent your voice. American Whitewater was founded in 1954 and has been a very effective force in river conservation in America.
Happy Holidays everybody! I hope y'all get to spend some quality time somewhere special this holiday season, with people you love.