Being lucky enough to work as a river guide for one of the three companies that have a permit to commercially raft the Illinois River through the Kalmiopsis Wilderness, I have had the fortune to spend considerably more time in its wild spaces than most. The Illinois River is one of the two largest waterways snaking through the heart of the Kalmiopsis. Gaining most of her water from the peaks around the Illinois Valley, outside of the wilderness area, the Illinois or Illi, allows access to her wild and scenic corridor with relative ease. Paddlers and hikers can drive a dirt road directly to river, before the wilderness boundary and begin an adventurous and beautiful float or hike the trail that parallels the river from above. Though the rapids on the Illinois are challenging, the flows unpredictable and the terrain is remote, the access is simple and open to anyone with descent tires and a shuttle driver.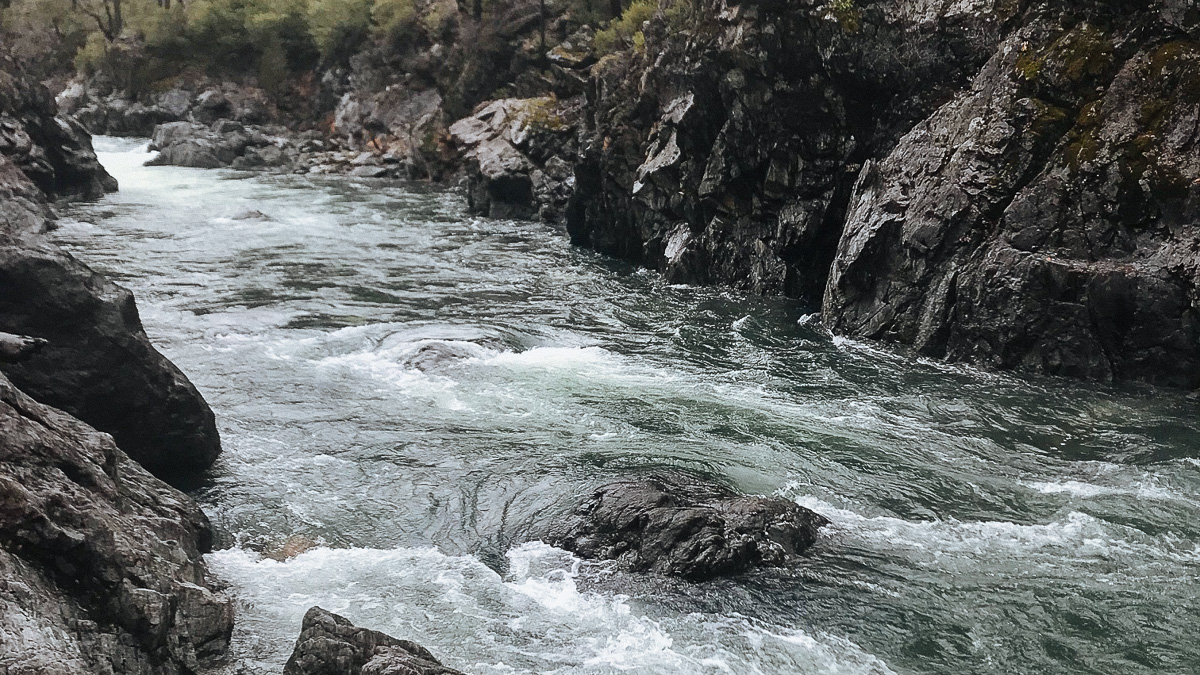 The same is not the case for the Kalmiopsis' second major waterway, the Chetco. The Chetco is born and lives most of its life within the wilderness area before exiting and depositing the water drained from Kalmiopsis peaks into the ocean, near the town of Brookings. With the main river and its web of tributaries contained within the wilderness area, the Chetco provides little access to her pristine waters. Minimal trail access and logging roads that stop miles and mountains away from the riverbank, mean the Chetco has a considerably higher cost of entry for those who desire to experience her beauty and attempt to navigate her rapids. The most popular access, for those willing to pay the cost in sweat, has traditionally been to hike boating gear into the Southeast end of the wilderness over roughly 10 miles of closed logging road and trail, past Babyfoot Lake, to enter the river around Carter Creek above one of her most challenging and beautiful gorges, the Slide Canyon Gorge. For all but the fastest and well oriented gear shleppers this takes a whole day and the river portion of the adventure begins day two. Recently some intrepid local kayakers have utilized a smaller tributary, Box Canyon Creek, entering the wilderness from the East and bushwhack hiking 4 miles to enter the creek and run 7 miles of challenging creek boating before confluence with the Chetco, below the Slide Canyon Gorge.
Southern Oregon is the home of many ambitious adventurers, boaters who are not all prone to writing and posting blogs detailing their exploits, so I am sure that others have quietly pioneered alternate routes into the Chetco.  Without those accounts contributed into the block of public knowledge, the above listed routes, the few blog posts and guidebook write ups about them are the only bits of firsthand beta that are available to would be Chetco paddlers.  It was reading one of these write ups by local paddling pioneer and blogger, Jacob Cruser, in the guidebook 'Pacific Northwest Paddling' that my roommate, Ben, stumbled upon a speculative piece of beta that predicted another possible entry point.  Jacob wrote: 'Access may also be possible using Fresno Creek.  Difficulty unknown.'  
Frequently during the summer of 2018, I would come home to find Ben staring at a Google Earth image of the Fresno Creek drainage, zooming in and out to try and discern blurry pixilated details of the impossibly small looking creek. Comments like 'It would only be a 3 mile hike in and 2 miles of that is on trail', 'Fresno Creek only drops 200 ft per mile', 'Fresno Creek comes into the Chetco 4 miles above Carter Creek, I don't know if anyone has paddled that section before', and 'With Fresno Creek that is nearly 30 miles of kayaking and I bet we could do it in 2 days', would pop up unsolicited during conversations over beers or while cooking dinner. We both read every blog and write up on the Chetco multiple times, over the course of the summer, and spent hours navigating the wilderness with our fingertips on the touchscreen of Google Earth. By the time the fall storms, that swell northwest rivers for occasional fall boating, began to roll in, the Chetco was very high on both of our paddling wish lists.
Even with a solid route, all the beta we could find and at least two committed participants, there were still many stars that needed to align before we could attempt to enter the Chetco through the Fresno Creek back door. We needed a big fall storm, that brought plenty of precipitation but not too much snow. With too much snow, the road access to the Vulcan Peak trailhead we planned to use would be impassable but without considerable water coming into the meager drainage of Fresno Creek it would be too low to float and we would have to hike for 3 more miles alongside and in the creek to access the Chetco. Since this entrance had never been attempted, we did not know how much water we needed to make the steep little creek boatable. We speculated that we would want at least 1-200 cubic feet per second (cfs) of water to make Fresno Creek boatable, which for a little creek high up in the Chetco river system, with a very small drainage to contribute water, translated into 'A LOT' of water coming out of the sky and eventually into the Chetco. By Ben's best, slightly educated guess, we wanted somewhere between 3,500 and 6,000 cfs of water on the Chetco itself.
Paddling on the Chetco is still in its exploratory stages and though the low end of the paddlable flows are well known, the high end is still being explored and speculated over by local paddlers.  By all accounts, 3,500 cfs on the Chetco is high and 6,000 would likely be a higher flow than had been attempted up to this point.  If we were gaining ease of access by entering through Fresno Creek, we would be gaining it only with the acceptance that we were entering a river flowing higher and faster than most had ever experienced it, possibly higher than anyone had been able to experience.  It was also no given that we would have the chance to confluence with a high water Chetco River.  Fresno's 200 ft per mile gradient is steep and even if the water was high enough to float when we got there, it could easily be home to impassably difficult rapids.  When paddling in the Pacific Northwest one must always be vigilant for wood.  Even in a well-traveled run, a dead tree can be transported by high water to a critical location to make a creek dangerous or impassable.  There is a story of another group of paddlers who attempted the Box Canyon Creek access route the year before at high water, only to spend two extra nights camped out above log jams and difficult rapids waiting for the water to drop.
When the fall storms finally arrived, we, like most paddlers in our region, were obsessively checking NOAA weather forecasts and refreshing the stream keeper river flow gauges, looking for the best option for weekend adventure. Text message threads from paddling buddies we had not seen since spring suddenly came back to life. The ambition to run unknown runs and local classics that had been dormant all summer returned, everyone was plotting and scheming over the next mission, attempting to predict where there would be water.
The first storm didn't bring in enough for us to chaise our Chetco ambitions, and we were still feeling rusty from a summer of infrequent paddling, but it did provide us with an opportunity to paddle the Illi. I have kayaked and rafted the Illinois many times for work and fun, but I had never done the run without the assistance of a raft to carry gear. Neither Ben or I had ever done any 'self-support' kayaking trips (kayaking for multiple days with all your gear in your kayak and no help from other crafts). The Illi offered the perfect opportunity to practice packing our boats with camping gear, plan meals that we could carry, hone our lightweight camp setup and, most importantly, see what it was like to paddle a kayak in difficult whitewater when it is weighted down with gear.
The Illi mission went great and our confidence was boosted by a weekend of camping and paddling our heavier boats on a river that we knew well. The flows were a moderate 1,200 cfs, so it was not particularly challenging, yet we had a chance to feel out our gear and systems, to see if carrying a tent was worth the speed and space lost in our kayak, to learn that shredded beef jerky in powdered mashed potatoes tastes delicious after a day of paddling and other such valuable lessons.
One member of our regular paddling crew joined us on the Illi and we pulled him into our Chetco dreaming. We were feeling tuned up and ready, we had a team and a plan, all we needed was water. Fortunately, this was a wet fall and the next storm delivered, now we just needed to get ourselves to the river.
Between the three of us we had 4 vehicles, all of which we decided were unfit to carry all three of us plus boats and gear to the coast, then, from sea level, up a rough forest service road, likely through snow, to the trailhead at around 5,000 ft. We also needed to find someone to drive our vehicle back down from the trailhead and leave it at our takeout. I was able to borrow a F150 truck from the rafting company I work for and called every shuttle service and unemployed dirtbag that we knew to find a driver. After offering a massive bribe to another rafting companies' out of work driver and jump starting the neglected F150 truck, we were finally putting our plan into motion and the adventure began immediately.
Rafting company vehicles tend to have 'quirks' and I had forgotten that this particular truck had developed a peculiar electrical issue that only allowed the windshield wipers to function when the brakes were depressed. Immediately upon departing, we went from sunny skies to torrential downpour. Driving at highway speeds with passing semitrucks sending torrents of extra water at the windshield and attempting to time sporadic braking to clean the windshield for a few seconds of visibility between torrents and traffic, proved to be terrifying. We quickly exited the highway and began a slower more brake friendly course of backroads to get us to the cabin we had rented near the Chetco River mouth. More than once I had to pull over to clear the windshield, hope for a lull in the storm and to let the fear pass. We made it to the coast and our cabin by midnight, settled into sleep, interrupted by sheets of rain whipping the metal cabin roof and pretrip anxiety as we milled over everything that could go wrong.
I must admit that the drive out and my tight schedule added to what would already be considerable and normal pre trip anxiety before a mission like this. The day after we were set to take off the river, I was set to fly to Chile for three months of raft guide work. The story from the season before when our friends spent two extra days on the river waiting for the water drop was in the back of my mind and would periodically creep to the front. If we spent even one extra night on the river I would miss my flight to Chile but I knew for safety sake, we needed to keep that as an option or even worse, we may need to scrap the trip entirely and hike out if the rapids proved too difficult. As soon as our shuttle turned around and started back down the mountain, we would be a dozen miles from the closest traveled road, every step down the trail would take us deeper into the wilderness and every bend of the river would eliminate the possibility of going back. The creek could prove impassably low, or high, it could be choked with wood, we could pass through Fresno Creek and onto the Chetco only to find that we had gravely underestimated the flow or our ability to run the river that high.
Doubts and anxiety swirled through my head most of the night but by the morning I managed to push them down, to distill doubt and anxiety into a feeling of anticipation. This is what adventure feels like, this is what it feels like to step out of the comfortable and into the unknown. Anything could happen, good or bad, we had to trust that our plan was sound that we would be able to identify and overcome the challenges of the day. Though anxiety had transformed into excitement for our group, everyone did not feel the same and our first challenge of the day would come before the sun rose or we even left the cabin parking lot.
Our shuttle driver met us at 6 in the morning and immediately asked if we had ever driven the road before and if were at all worried. We had overcome our anxiety and were turning the days challenge into a joke and replied that we had not, but it was the least of our worries for the day. We had used the same driver for the Illi the week before, he already thought we were crazy for kayaking days at a time in remote areas and he may not have fully trusted me after I talked him into taking Bear Camp pass the week before, breaking a promise to his wife. I quickly realized that he was actually quite worried about the drive and was considering scrapping the trip before we even started. It took a bit of convincing to get him to at least ride along in the truck and see how the road looked before giving up. I had no intention of turning back unless the road was completely impassable.
The road proved to be pretty good and we stopped to mark the few turns with logs to reassure our driver that he could find his way back out, once he got rid of the nutcase kayakers. We encountered the snow line at about three thousand feet, I attempted to keep the ride as smooth as possible without losing momentum on the increasingly steep, rutted and snowy dirt road. I could see our drivers knuckles whitening as the truck slipped and scrambled up the last steep grade, just as the snow was getting too deep and the road too steep, it leveled off and we were at the trailhead. The driver certainly would have made me turn around soon, or maybe he would have just jumped out of the truck and taken his chances getting back down the road without us.
The sky was still dropping slushy snowflakes on us as we geared up for the hike and packed our boats in the predawn gloom. Our driver looked around and asked one last time, "Are you guys really going to do this?" Any thoughts that we were absolutely insane were confirmed as he saw the conditions he would be leaving us in. He could not comprehend that he was dropping us off on a mountain pass in the middle of a snowstorm, to go kayaking for two days. Anyone could see that there was not a river for miles around and these were the conditions that would keep most people away from even a casual hike.
It was around 8 am and the sun was just breaking over the horizon, through the clouds, when we departed the trailhead. There were a few inches of snow on the trail which made the hiking easier, as we were able to drag our kayaks behind us like sleds. The skies kept clearing to provide occasional sunshine, the trail was easy to follow, and our confidence began to rise. We were steadily moving into the wilderness and already we began to feel immersed in its isolation. A post storm calm settled onto the undisturbed landscape and the only sounds were the crunch of footsteps through the snow, grunts of exertion and the occasional wind gust whistling over the ridge. We made good progress over the trail and were looking over Fresno Creek's drainage within an hour and a half.
From this vantage point it seemed even more absurd that we would be kayaking soon. We could see the entire drainage of Fresno Creek from where we stood on the ridge, the melting snow in our field of vision would be all that we would have to kayak on, it did not seem like much. We stood on a ridge that separated two small basins of the Fresno Creek drainage each sloping inward to funnel melting snow into their center where, midway down the slope, we could see enough flowing water coming together to constitute something more than a trickle but still nothing that would be considered a creek. These upper forks of Fresno Creek looked small enough to step over for most of their descent, till their confluence about 500 ft below the snow line. Even after the confluence, it looked doubtful that there was going to be enough water to float a kayak.
The mile descent to the confluence took us about as long as the two miles of trail before. Most of the slope had been affected by a burn some time in recent history and this made the going easier as we could see where we were going through the naked trees and our path was unobstructed by dense brush. Still we were off trail now and often had to carry our boats down through steep snow-covered boulder fields and deadfall. As we approached snow line, the brush and regrowth began to thicken, and we often had to slide our boats in front of us as we swam through the wet foliage. We reached the confluence by 11 and were glad to find the creek something close to floatable that point. Nothing about it looked like what any boater would call fun, but it looked passable.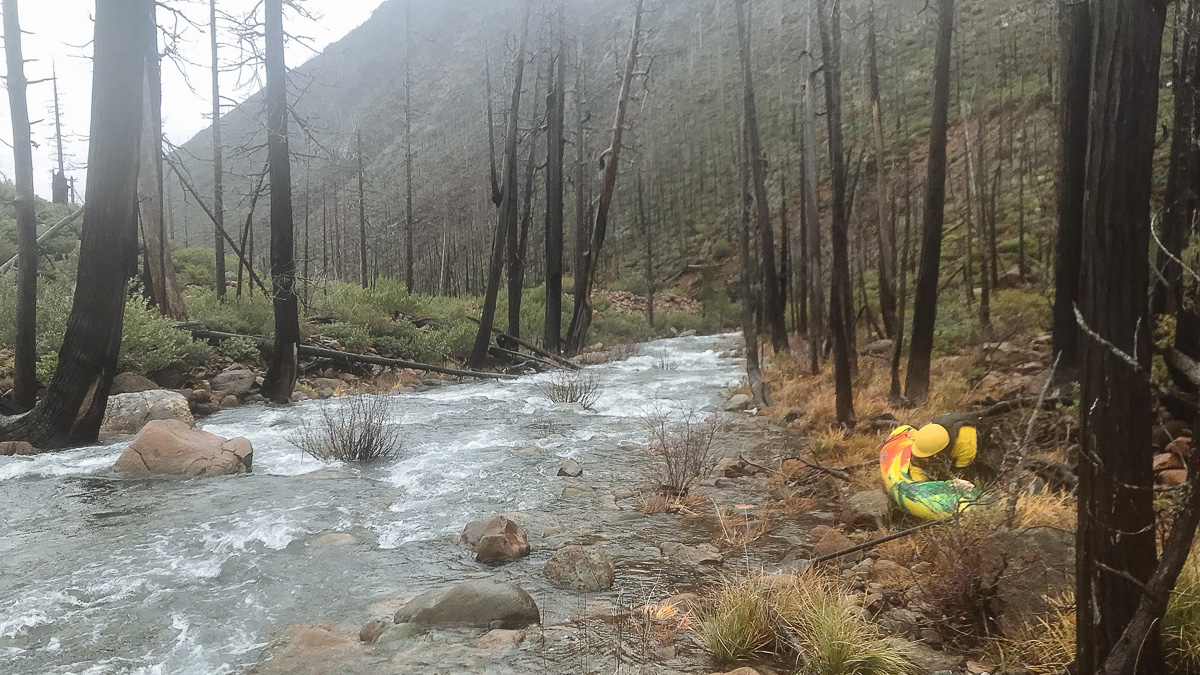 Our original assessment of Fresno Creek held true for the duration of its three mile tumble into the Chetco. It never gained enough water to become what most boaters would call fun but it never became impassable either. The creek was narrow and steep, so there were few calm pools to rest and asses in. We had to be constantly searching for the deepest the channel, vigilant for even the smallest submerged rock that could knock us off-line into a dry boulder jumble. This happened a few times and a minor pin would occur but nothing anyone had to exit their boat for. Only once or twice did we have to scramble to shore and purposefully beach ourselves on rocks, grab onto a tree or rock, get out of our boats to scout a blind bend in the creek and make sure we did not bumble into a hidden hazard. The creek was steep, but its gradient was constant and there were only a few defined rapids, mostly it felt like sliding your kayak down a rock covered slip and slide.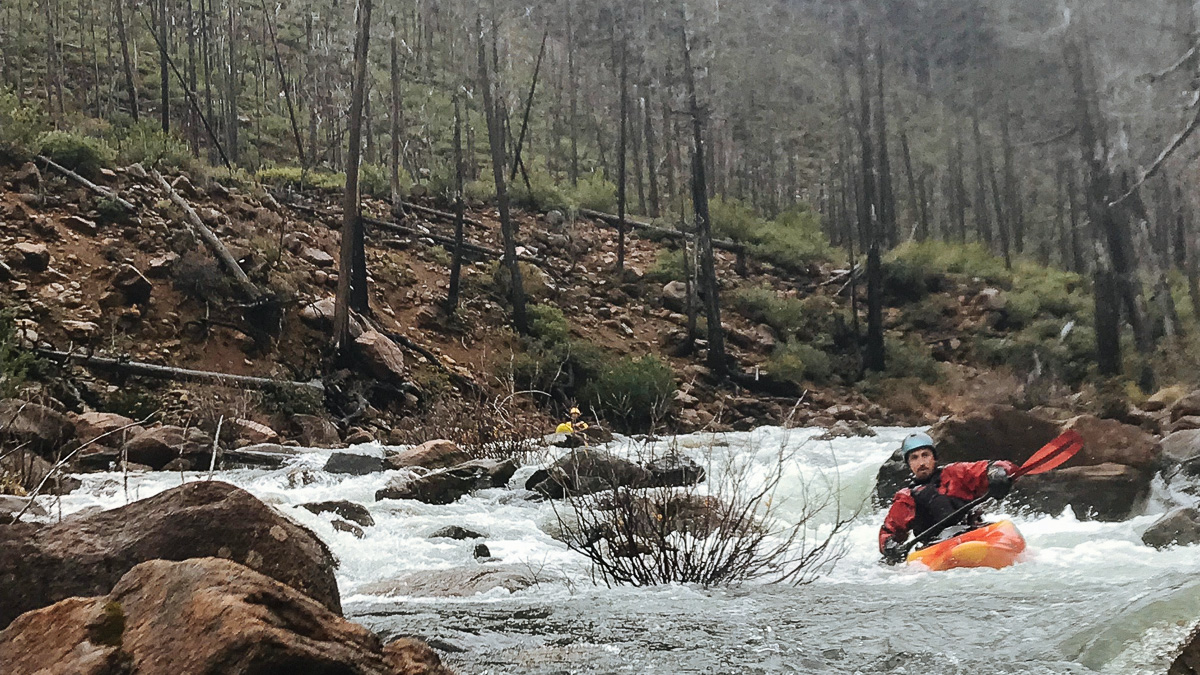 With great relief, we met the confluence with the Chetco. It could only be described as idyllic after the snowy hike in and our bash down Fresno Creek. Though still a small river at this point, the Chetco felt blissfully deep and the sun shone through the clouds intermittently. We stopped and had a lunch of beef jerky and cliff bars at the first sun exposed rock that we could find. After the confluence, the boating was easy going, we encountered only minor rapids and the water did not have the pushy overflowing the banks feel of a river at extreme high flow. We wondered if the forecasts had been dramatically off or if there would be no rapids of significance above Carter Creek.
Quickly after our lunch break, these thoughts were dispelled. Water entered the river in micro streams and drips from everywhere. The soil of the Kalmiopsis is heavily Serpintine in nature, which means that it is high in metals and low in nutrients, making it a poor host for vegetation. Many of the plants that call the Kalmiopsis home have specifically evolved to live in the nutrient deficient environment, to survive in soil that refuses to absorb significant amounts of water, in a landscape that is steep, rocky and, in many ways, forbidding. What this means for river runners is the water that falls is not delayed and absorbed into the soil but instead flows directly down the hillsides into the rivers, I once heard it compared to if the hillsides were covered with plastic sheeting. Every mile we made downstream came with a significant increase in water.
We encountered several large rapids in the miles before we reached Carter Creek, where most Chetco trips start. A few of the drops we got out and scouted but many of them we were able to hop from eddy to eddy, scouting the rapid by section from our kayaks to save time. Not sure how long the entire run would take, we felt like we needed to keep making progress down river in order to make time before we were forced to make camp for the night. This worked out fine for us but in hindsight, I think that this section of river deserved a higher level of caution than we gave it. After finishing one of the larger rapids, Craig exclaimed "Wow, if we would have scouted that one, I would have walked it." All the rapids were good to go and at lower water would have been no problem for competent paddlers but at high water, they were very pushy, wood and other hazards were present and we thought that more than one should have a class V rating at those higher water flows.
Many large rapids were encountered after we entered the more commonly run section of the river, with the largest in the canyon after the confluence with Slide Creek. There was one rapid that we decided to walk around in this section, that looked runnable but was more than we cared to take on. I have since heard this rapid referred to as "The Big One." After Slide Creek Canyon, the rapids mellowed out a little but still provided continuous action. I had a near miss late in the day when I rolled over in a smaller shallow rapid and was unable to roll upright after I began bumping into rocks. I pulled my spray skirt and was able to swim directly to shore, with my paddle. Lucky for me my boat eddied itself out in a calm pool after the rapid, unluckily it was on the opposite side of the river and I had to throw my paddle to Craig and swim across the river mid rapid to get back to my boat. The long day was beginning to take its toll, we would have really been in trouble if my boat had not found the calm pool and gone down river with all my camping gear inside at that time of day. This was a clear message that it was time to find camp.
With the water high on the banks, there were not many camp sites to choose but we ended up finding a high bench near the confluence of a small creek. It was not ideal, but it looked as good as anything else we had seen, and it was getting dark, so it was as good as we were going to get. We set up our tarps over the flattest spots that we could find, boiled up some powdered mashed potatoes and settled in for a rainy night. None of us had a particularly restful night's sleep but exhaustion makes an excellent sleep aid and we woke more rested than when we ended the night, happily to a sunny morning.
Sunshine and the knowledge that most of the heavy lifting, as well as possible pitfalls, of the trip were behind of us made for a happy morning of paddling. Though, it was not till lunch, after we had exited the wilderness designated area and checked our progress downriver on our GPS map, that Ben exclaimed, "This is actually going to work!" The whitewater on the second day was still fun but noticeably easier than much of what we had done the day before and we could tell that the water was already dropping from yesterday's peak. We were still not done though and the Chetco still had a few punches left before we could raise the "Mission Accomplished" banner. Two of the larger rapids still waited in the final miles before take-out.
The first of the last rapids, Candy Cane (aka Radiolaria Rapid), gave us a run for our money, but after some rolls, spins and general out of control boating, we ended up in the calm water below the rapid. Conehead, the last rapid of significance earned a long look and some head scratches before we decided to portage. Named after the large rock in the center that resembles the coneheaded aliens in the 90s comedy, the rapid looked challenging but doable, however we were tired and Conehead was our last obstacle to a successful mission. We felt only mildly guilty about skipping the last rapid but the sense of accomplishment at finishing the run, with all the uncertainty and planning leading in, greatly outweighed the feeling of missing out on one big final rapid.
Once we had floated the final bit to the truck, left at the takeout by our nervous shuttle driver, it was only 2 in the afternoon of the second day of our trip.  Everything had gone more or less as planned, Ben's route in through Fresno Creek proved to be a much easier walk than the other routes, there was enough snow to drag our boats but not too much to drive up or hike in, we had enough water flow to float Fresno Creek (which was boatable and not choked with logs or impassable rapids) but not so much water to make the Chetco itself completely terrifying.  All of the conditions had aligned perfectly to allow passage into the river and through Kalmiopsis wilderness.
The whitewater on the Chetco, or Fresno Creek, was far from the most challenging that I or any of the group had ever done and though the area was astoundingly beautiful, there are plenty of beautiful places that require much less effort to access.  It was the difficulty and remoteness of this trip that made it one of the most rewarding kayaking trips that I have undertaken.  Certainly, if the Chetco had easy access points and more predictable water flow, people would be recreating on this spectacular river on a regular basis but the Chetco and the Kalmiopsis Wilderness are there for their own sake and care not for our comfort.  Just being inside the Kalmiopsis is a special experience but to travel through it on the rarely paddled Chetco, with near perfect conditions, felt like a special privilege.  This time the stars aligned and we were granted access to a place few have seen in such a manner. Next time one of many things could go wrong and we could head home disappointed, but not this time. This time we were privileged guests in an indifferent, magical place.
Disclaimer: This is write up is not written as a 'guide' for those who are thinking of repeating this trip. This trip is well worth repeating but make sure that you do your own research, go prepared for a hike and a difficult paddle. Good orienteering skills and class V boating skills are a must to do this trip with similar conditions.