Photos and text by Nicole Smedegaard aka "Nature Nicole"
Lilla Leach recounted at a garden club meeting: "Suddenly, we came upon a breathtaking sight. Before us, beside the trail, lay a patch of low evergreen bushlets, simply covered with deep rose flowers, vividly pink in the sunshine. Thrilled? We were! I felt sure I had found something new." Nerd alert: the Klamath Mountains are a big deal for biodiversity. At almost 180,000 acres, the Kalmiopsis is the largest Wilderness Area in the Klamath Mountains and is named after a plant! This famous shrub is named for the woman who "discovered" it by being the first botanist to taxonomically classify and record it as a new species. She was Lilla Irvin Leach, hence the latinized species name leachiana. The genus name Kalmiopsis means "like Kalmia" in reference to the common name locals were using for it at the time. This cute vigorous flowering shrub with leathery tough oval leaves was Lilla's most exciting discovery and is a fascinating example of paleoendemism. More on that term later.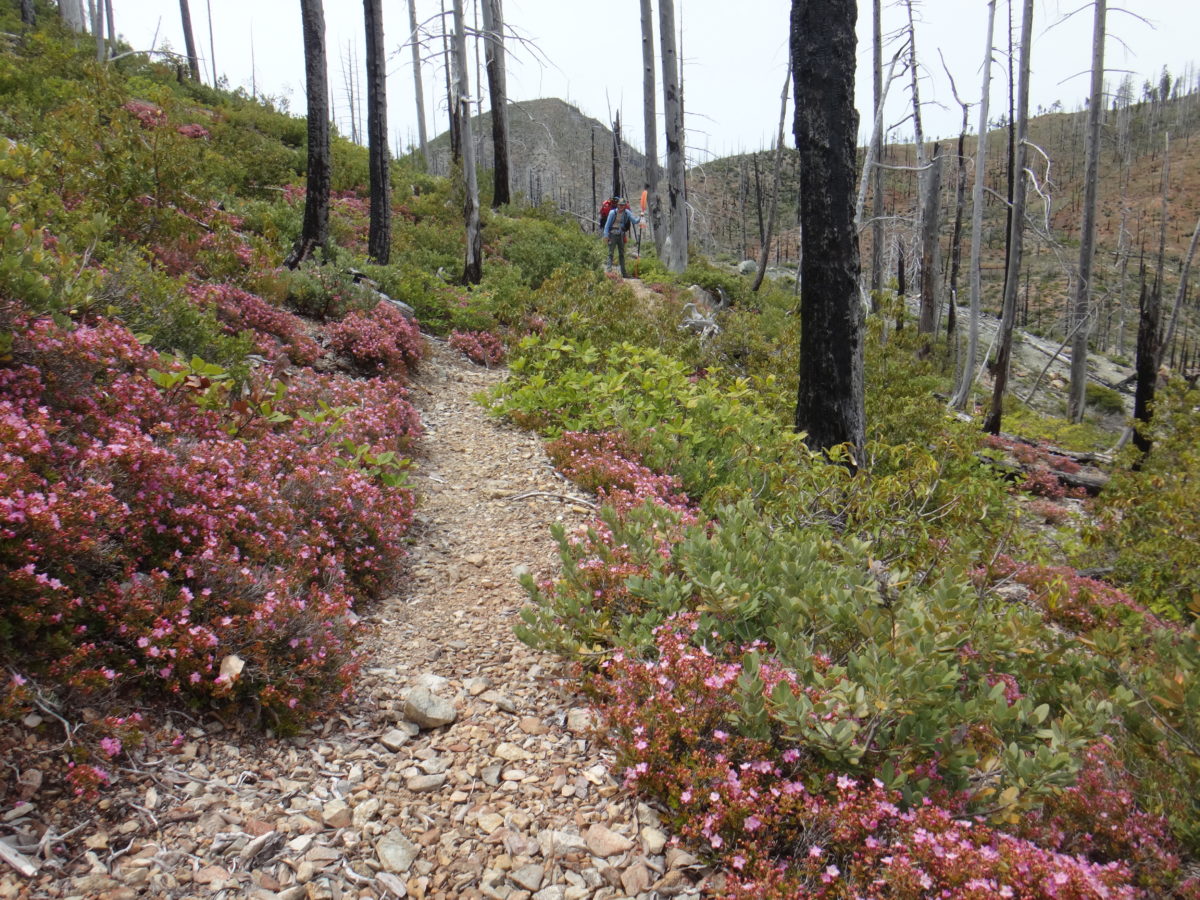 Kalmiopsis leachiana was discovered in June 1930, after a trip west of Selma to botanize. The Portland based botanists and their pack mules had set out looking for new flora a year after their interest had been piqued by an encounter with an old wilted specimen presented in a bouquet. That bouquet had been picked in the Big Craggies and traveled all the way to Agness to be given to Maybel Lucas by her brother "Douts." The Lucas family's lodge, still in operation today, so happened to be where botanists John and Lilla were staying in 1929. A year later, they returned to southern Oregon and after collecting and pressing specimens, the plant was sent to the Herbarium at the University of Oregon where the curator officially recorded it and confirmed Lilla's discovery of leachiana to be not only a new species, but also a new genus of the Heath family, Ericaceae. More familiar plants of this family include Rhododendrons, which stem from a common ancestor.
Although a relatively new addition to the world of western science, this plant has been around since the Tertiary; before the last ice age, making it the oldest plant in the Health Family. The term endemic, referring to an organism's geographic origin as being extremely localized, can be split into neoendemic and paleoendemic. We find both types of endemism in Klamath mountain flora. Neoendemics occur with recent diversification to adapt to the unique serpentine soils and climate change. Paleoendemics are found where Pleistocene Epoch glaciation patterns left islands of terrain as untouched plant preserves. The paleoendemics are lonely relics left behind from before glaciation and typically do not have many close relatives; leachiana falls into this category as the only close relative is a small population once thought to be the same species, found in the nearby North Umpqua drainage. Paleo is less common than neo among the endemic plants found in the Klamath Mountains and the few other textbook examples include Picea breweriana, Quercus sadleriana, and Cornus sessilis. The North Umpqua Kalmiopsis population of around 2500 individuals was proposed to be recognized as a separate species in 2007 based on pistil and stamen structure as well as the smell, it is now called Kalmiopsis fragrans.
Before I was a plant nerd, I hiked to a little visited pictograph cave near the Limpy Rock Research Natural Area and gazed up at an amazing Madrone growing through the cave opening and emerging from a sea of small shrubs with pink flowers. Upon noticing the flowers, I had the sensation that I, too, had discovered a new species. I had seen Kalmiopsis flowering along the Babyfoot Lake trail on my hike into the Chetco headwaters, but I was dumbfounded to find them in the Umpqua drainage. It has been a journey of discovery to become familiar with these plants and learn of the two disjunct populations. Ancient relatives.
After seeing them in those locations, I started noticing Kalmiopsis all over on my backcountry boating adventures and have even made a point of visiting a single lonely plant along the banks of the Illinois River on repeat rafting trips. This solitary cliff dwelling plant puts out blooms in January, well before bumble bees have begun to emerge. The pink five lobed flowers are reminiscent of miniature azaleas. The petals are fused to form a corolla and they frame 10 stamen, the male sexy part. The fresh pollen bearing anthers sometimes have a purple or blue tint and in the center of the anthers is a single protruding pistil, which is different in appearance from the stamen because it is the female part of this perfect flower. If you stop to smell the flowers, you may find them to be spicy. Be careful not to inhale any tiny pollinators!
If, like me, you've started to notice the rare and endemic blooms in the Klamath Mountains and would like to learn more, I recommend an easy app for identification called "Oregon Wildflowers" which is produced by the Oregon Flora Project www.oregonflora.org. This will get you to the correct genus for the most part, then you can check for species and variations in more regionally specific field guides. My favorite color coded wildflower books are Wildflowers of Southern Oregon A field Guide by John Kemper and Wildflowers of the Trinity Alps by Ken DeCamp, Julie Kierstead Nelson & Julie Knorr. If you choose to go full history buff, check out The Botanist and Her Muleskinner produced by Leach Garden Friends and the Siskiyou National Forest for original excerpts from the Leach's travels. For a broader understanding of the region's ecology and geology, follow Kauffmann's blog www.michaelkauffmann.net/blog/ and for trail information check out Siskiyou Mountain Club https://siskiyoumountainclub.org/.